Meet Marq Mays: Combining Passions With Your Career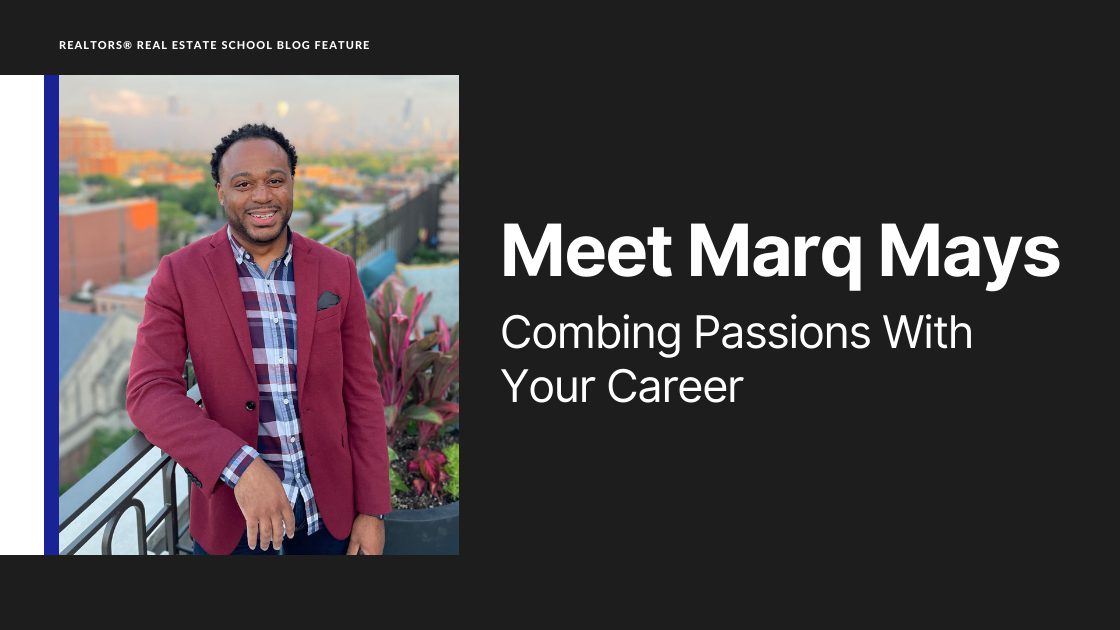 When Marq moved to Chicago in 2014, he took his first opportunity with a corporate job at a fintech startup. Even though he enjoyed the role with its stability and benefits, he wanted to do more with his passion for architecture and real estate.
"During my free time, I would watch real estate TV shows, read architecture magazines and religiously track trends and developments in the local real estate market. I immersed myself in the field basically," he said. On top of his degree in architecture, he found himself knowing a lot about real estate even though he wasn't practicing in the industry. All the reading and knowledge simply stuck. "I had friends who would turn to me and say, 'Wow, you know your stuff!'"
Earning his broker's license felt like a natural next step.
Forming Your Network From The Ground Up
"I am really into new construction, especially in Chicago. I was used to the consistency and stability of my corporate job, so I was hesitant about becoming a REALTOR® — but once I started, I started," he said.
Since he had been living in Chicago for only six years, Marq knew he needed to network his way into the industry as soon as possible and find a mentor. So, where did that search start?
"I began going to open houses nearby, which was West Loop at the time, to talk to REALTORS®. I was almost finished with my coursework when I clicked with one of the REALTORS® I met (shout out to Jennifer Dunan!). I ended up hanging out during her whole open house as she answered my questions!"
She gave him lots of resources to begin building his business plan, and through their relationship, he ended up joining her brokerage, Jameson Sotheby's. "I feel super fortunate to have her as a mentor and supporter vouching for me," he added. "There's a boutique brokerage feel to Jameson Sotheby's since they have a small number of agents and a tight-knit culture."
Keep Showing Up
Marq has been officially licensed since July 2020, and as he looks back on this first year in the business, he is glad he took every opportunity to show up and learn something.
"It's a great time for REALTORS® even though the pandemic probably slowed me down. It definitely presents an extra challenge if you aren't already established since networking events were virtually non-existent. But, the same principles still apply to being newly licensed," Marq advised. "You need to meet new people and build rapport both with other brokers and with clients."
He made himself available both to his mentor and to other colleagues in the office. "I remember watching one of Ryan Serhant's YouTube videos a while back where he suggested that donating your time and making yourself available to other agents is necessary when getting started."
From running open houses for them to doing favors, he has gained an immeasurable amount of experience and planted seeds for future clients. "Open houses only cost you your time!" he said. "It's the easiest, most effective way to establish a client base."
He's already helped buyer clients and a seller client, and his database is continuing to grow.
What's Next? How Is An Architecture Background Helping?
"My ultimate goal is to become a real estate developer. Being a REALTOR® is a door to that industry where I can take my passion for architecture and creating something for someone and then grow."
Marq is concentrating on building his network of clients just as much as he's building a network of industry professionals. "I knew getting involved at this level will put me in a place where I can meet people who are doing the things that I want to do."
If Marq could give one piece of advice to someone at the start of their real estate career, what would it be? "You have to really want it. Our culture glamorizes real estate and being a REALTOR®, but the real challenges and actions behind the scenes aren't brought to the forefront," he says.
"This isn't a get-rich-quick profession, you have to work. To do good work, you have to enjoy it. Otherwise, you'll burn out quickly. Do this because this is your passion."
He also warns new licensees that doing things that may make you uncomfortable is simply necessary. You have to be willing to engage with complete strangers, and put yourself in situations where you may feel exposed whether that's introducing yourself to a group of strangers at a social event or making cold calls. "If you're an introvert like me, these things can be very difficult to overcome."
How can you handle rejection? "Getting ghosted happens quite a bit," he admitted. "You have to be okay that even if you follow up with people, they don't follow back. Don't take it personally. It's hard when you're just getting started. Stay positive by not having super high expectations and checking those hopes at the door. It doesn't mean you're a bad person or agent, it means they simply want to work with someone else and that's fine."
Marq's final words of advice are words that inspire hustle, creativity and passion. "You don't want to force people to work with you. You want them to want to work with you."
INTERESTED IN A CAREER IN REAL ESTATE?
We do encourage you to fill out the information request form below so we can reach out to you and make sure you have everything you need to start your new and exciting career.