Which path best fits you?
How do you know where to begin your career in real estate? Are there really different types of licenses with different requirements? Which one best fits what you want to do?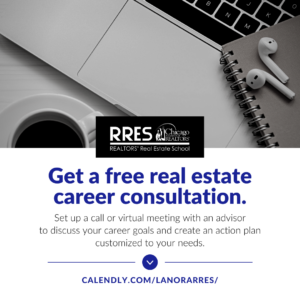 Not to worry, we have your back. If you follow the diagram below, we mapped out the different paths you can take when you begin your real estate career. If you are unfamiliar with the differences of becoming a Leasing Agent versus a Broker, check out our Types of Careers page, where you will find a simple breakdown of what different real estate professionals do.
If you haven't already, fill out a form on our home page to request more information about a real estate career. One of our representatives will reach out to you and arrange a packet of information to be sent your way!
Schedule a FREE Career Consultation
Have more questions? Set up a call or virtual meeting with an advisor to discuss your career goals and create an action plan customized to your needs.
---
Check out the requirements below before you get started:
| | Leasing Agent | Broker | Managing Broker |
| --- | --- | --- | --- |
| Requirements | | | |
| Who Needs This? | A person who is employed by a real estate broker to engage in licensing activities limited to leasing residential real estate. | A person who provides assistance to others which is in any way intended in the sale or lease of real estate for compensation. | Brokers who are licensed and have been practicing real estate for two years, who wish to manage an office or become a sole proprietor. |
| Age Minimum | 18 years old | 18 years old | 20 years old |
| Education | High School Diploma or GED Equivalent | High School Diploma or GED Equivalent | High School Diploma or GED Equivalent |
| Course Requirements for State Exam | 15-Hour Pre-Licensing Course for Leasing Agent | 75-Hour Pre-licensing Course(s) & Exam | 30-Hour Managing Broker Pre-License Topics; 15-Hour Applied Management & Supervision, Interactive |
| Course Format | | | |
| Classroom & Webinar | ✓ | ✓ | ✓ |
| Self Study | | ✓ | ✓ |
| Online | ✓ | ✓ | ✓ |
| | | | |
| Next Step | | | |