TOOLS TO TRIUMPH
Did you know that less than 50% pass the state exam on the first try? We offer comprehensive study aids to help assist you on your journey to get licensed. Choose between bundles or a la carte products to fit your needs.
Already purchased? Sign back in or resume your coursework.
Before You Purchase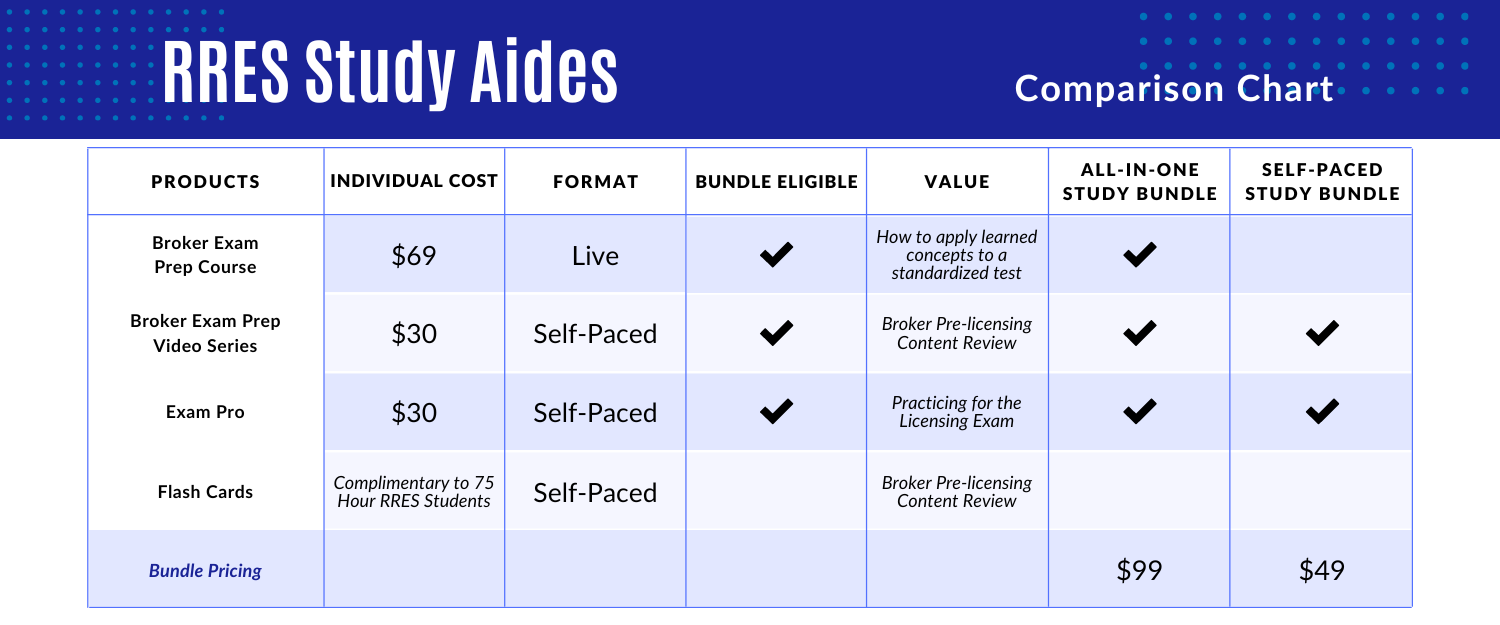 PURCHASE A STUDY AIDS BUNDLE
All-In-One Study Bundle
---
Cost: $99 | Format: Hybrid
If you want as many study tools as possible in your toolkit, this is the bundle for you. The All-In-One Study Bundle includes:
The Broker Exam Prep Course
Exam Pro
The Broker Exam Prep Video Series
Self-Paced Study Bundle
---
Cost: $49 | Format: Self-Paced
If you prefer to study on your own without a live review course included, this is the bundle for you. The Self-Paced Study Bundle includes:
Exam Pro
The Broker Exam Prep Video Series
PURCHASE INDIVIDUAL STUDY AIDS
Broker Exam Prep Course
---
Individual Cost: $69 | Format: Live
Take your exam preparation to the next level with our two-part course designed to help you ace your licensing exam. With proven study methods to increase information retention and reduce exam stress, this course provides the perfect foundation for success.
In Part 1, you'll complete a one-hour self-paced course that teaches you effective testing strategies and how to best prepare for your licensing exam. You must complete this course before attending the live session.
In Part 2, join us for a live webinar that includes a simulation exam in the morning, followed by an exam debrief in the afternoon. This interactive session provides opportunities for group discussion and collaboration, as you share experiences and insights with other students.
** For the optimal course experience, we recommend finding a quiet, private space to participate in the course on a computer or tablet. This will allow you to fully concentrate on the material without any distractions or interruptions.**
| DATE | TIME | LOCATION |
| --- | --- | --- |
| 6/17/23 | 9:00 AM – 5:00 PM | Live Webinar |
| 7/22/23 | 9:00 AM – 5:00 PM | Live Webinar |
| 9/23/23 | 9:00 AM – 5:00 PM | Live Webinar |
| 12/16/23 | 9:00 AM – 5:00 PM | Live Webinar |
Broker Exam Prep Video Series
---
Individual Cost: $30 | Format: Self-Paced
Review a full library of mini videos, totaling 15 hours, covering key content from the twelve testing categories of the broker licensing exam. Pro tip: listen to the videos about topics that you may be struggling with!
Exam Pro
---
Individual Cost: $30 | Format: Self-Paced
Practice applying the knowledge learned during the broker pre-license courses. Exam Pro includes:
700+ questions broken up into 11 different exams.
Seven exams review specific content topics.
Two exams provide a mix similar to the make-up of the broker licensing exam.
Two timed simulation exams provide a unique opportunity to practice as if it was the real licensing exam.
Flash Cards
---
Cost: Complimentary with Broker Pre-License Registration
A common study method, flashcards help engage active recall. These flashcards are based on the first 60 Hours of the Broker Pre-License course material. As you flip through each deck of cards, rate your confidence level of answering each flashcard.
Tutoring
---
While we do not offer tutoring services through our school, we are networked with many real estate licensing tutors. Should you be interested in receiving the pricing and contact information of our tutors, please complete this form.
Explore Third Party Study Aids
These are NOT included with any REALTORS® Real Estate School bundles.
Exam Smart
---
Cost: $49/$59
ExamSmart gives you approximately 400 to 500 questions to help prepare you to pass the real estate exam the FIRST time. It explains why the incorrect answers are false, which is the key to passing the exam. Register here
CompuCram
---
Cost: $99/$59
Online practice testing and a simulated exam to help you pass the first time! Take advantage of the "Readiness Indicator" that tells you when you're ready to pass! Register here
INTERESTED IN A CAREER IN REAL ESTATE?
We do encourage you to fill out the information request form below so we can reach out to you and make sure you have everything you need to start your new and exciting career.