What's the Word on Miracle Mornings For REALTORS®?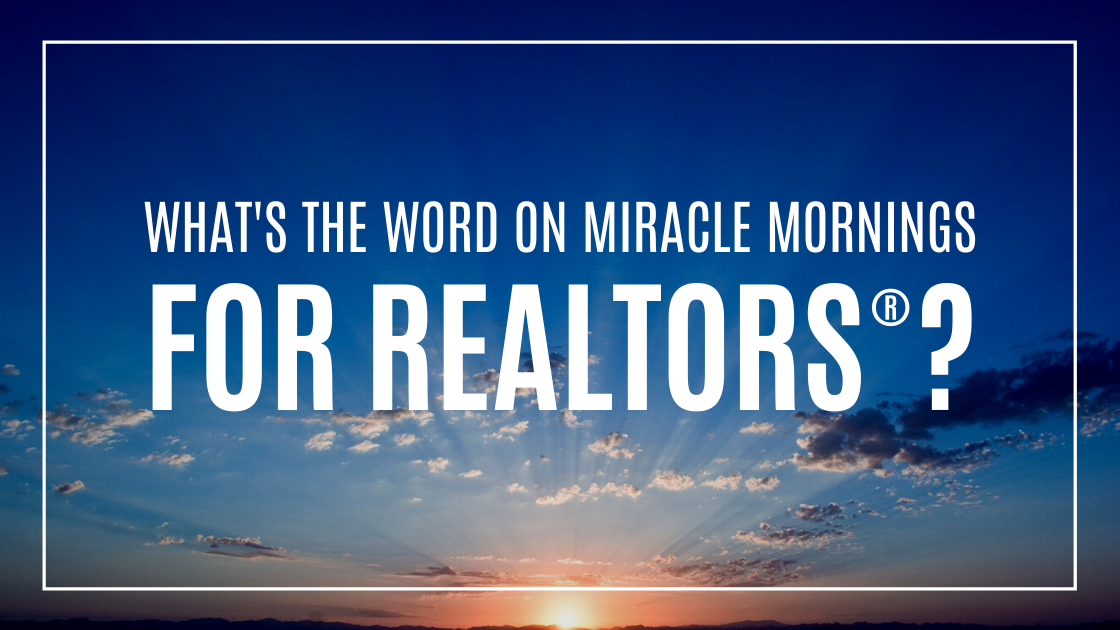 How are today's real estate professionals maintaining successful routines during a global pandemic? As the Illinois real estate community adapts to a more virtual world and upholds its commitment to practice social distancing, the importance of a productive, balanced home routine has never been greater.
We've decided to re-share a popular routine tool recommended by real estate professionals all over Chicago: the Miracle Morning, a program and book by motivational speaker Hal Elrod.
What Is The Miracle Morning?
Broken down simply, the Miracle Morning follows the acronym SAVERS (Silence, Affirmations, Visualization, Exercise, Reading, Scribing). Each letter represents an activity designed to have an immediate impact on your mood, productivity and life.
Using the early hours of the day to set a positive tone for the rest of your day isn't a concept unique to Elrod's methodology, nor is the Miracle Morning the perfect solution for every person. However, it provides an excellent template or starting point for your own routine, especially in the COVID-19 world and beyond!
Customizing Your Morning Routine
Whether you simply try to wake up 15 or 30 minutes earlier than usual, or you rise at the same time and try pushing back your usual beginning of the day activities, don't hesitate to customize your morning routine.
We've asked Top Producers how they adapt their own mornings, and they all responded with similar advice:
You're always learning! Read books, listen to podcasts and consult mentors. Choose what excites or interests you, and apply it to your own routine.
Your routine will definitely change over time. What works for you this month may not the next month or next year. Let your mornings adapt with you!
Hold yourself accountable by sticking to the most important parts. Maybe its affirmations, exercise or meditation, but no matter what, pick an element of your morning routine and keep it going regardless of how busy you are.
Now, go forth, be more productive than ever, and, hopefully, less stressed.
INTERESTED IN A CAREER IN REAL ESTATE?
We do encourage you to fill out the information request form below so we can reach out to you and make sure you have everything you need to start your new and exciting career.