The Four-Minute Study Tips Blog You've Been Waiting For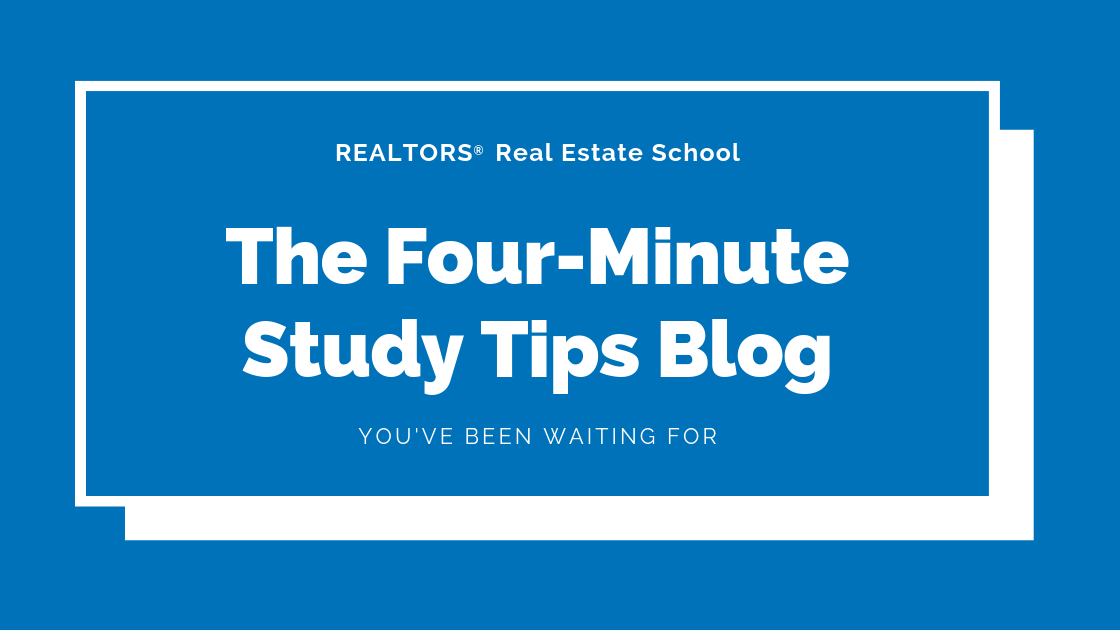 Set small challenges.
Studying license law and policy can be long and dense. Give yourself small challenges to help you stay positive. What motivates you?
It could be treating yourself after completing two units of review. Maybe set a goal of passing a practice test with a certain percentage, then get yourself a treat. Happier brains perform better!
Use the people around you.
For any and all of your questions about the exam or your coursework, one of the best things you can do is ask your teacher.
Is class already over? Form a study group! Some teachers are willing to set-up review sessions, and it can't hurt to ask.
Classroom time is golden.
Be present. Everyone has a full life outside of class but while you're here, tune in and soak up everything all that real estate knowledge. Stow away those electronics, arrive early to get your favorite seat and enjoy the class time. Treat your classroom as an oasis away from all that other adulting you have to do.
After class, take a few moments to consolidate your notes and decompress from a full day of soaking up information. Prepare for your upcoming study sessions and make note of the topics or units you'll need to revisit.
What's your study plan?
Create and stick to a study plan. Not only will this help you feel organized and confident on testing day, you'll also stress less in the days leading up to it.
Start with solid, dedicated study hours where you ask your friends and family to give you some space. Then, turn off all technology distractions. Work through your subjects unit by unit, and your study plan is sure to bring you success!
---
Speaking of study resources, we have a Broker Exam Prep Course and several third-party study resources at your disposal.
INTERESTED IN A CAREER IN REAL ESTATE?
We do encourage you to fill out the information request form below so we can reach out to you and make sure you have everything you need to start your new and exciting career.