Meet Stephanie Juckem: Creating Stand-Out Moments & Client Relationships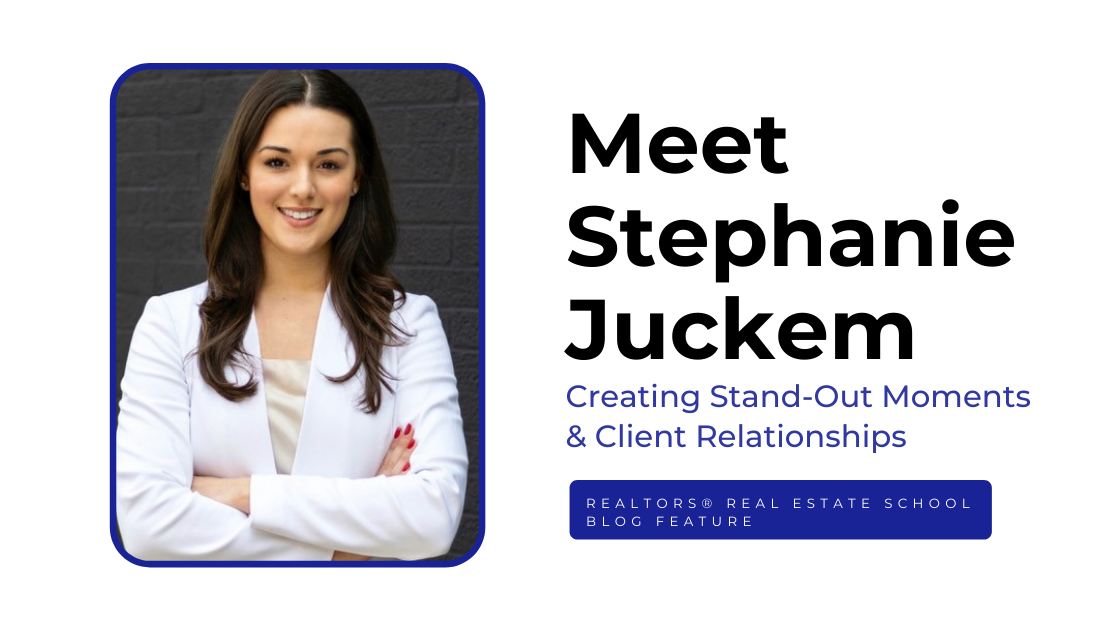 When Stephanie Juckem lost her corporate job in 2020 during the pandemic, it ended up being the perfect "kick" into becoming a full-time REALTOR®.
"I was approaching the tipping point anyway," she said. "When I started three years ago, I definitely intended to start part-time and keep my other full-time job as back-up to give me some stability."
She graduated from Columbia College with a degree in Marketing and landed her first job producing events and experiential brand activations. But, after a while, she was looking for a career path with more control and more opportunities for growth. Some of her friends had earned their real estate licenses and talked highly of the work, so she made the leap.
First-Year Advice: Say Yes to Everything
Stephanie joined Jameson Sotheby's International Realty through a contact who worked in the brokerage. She was able to connect with a mentor figure, shadow her and soak up as much knowledge as possible. But what is Stephanie most grateful she did in her first year?
"The smartest thing I did was that I didn't say no to anything! Every rental people didn't want, every showing request and so on — I made myself available to other agents so I could get experience."
Starting with rentals helped her build a strong foundation and learn the systems already built into the transaction. Want to learn how to schedule showings and submit applications? Start small!
If she could go back and change one thing, she wouldn't hesitate so much to put herself and her budding business out there. "I didn't want to advertise it until I felt like I knew what I was doing enough. But doing it is how you gain your confidence. The important thing is taking the first step and not waiting for perfection. Avoid perfection paralysis!"
Hold To Build Structure Into Your "Flexible" Day
One of the coolest aspects of a career in real estate is the flexibility and control over your own schedule. However, flexibility certainly does not equal not being busy.
"My schedule changes day-to-day, but I still figured out a routine," Stephanie said. "I listen to my managing broker's podcast, Monday Morning pep talks with Jim Miller. Then, an hour and a half each morning is for me, like coffee, dog walking and yoga. Then, it's tackling whatever is on my plate!"
As you build structure into your own routine, Stephanie reminds other new brokers that you are "wearing all of the hats." The importance of creating a schedule and holding yourself accountable to it is the key to success. "I create the structure I need. It's easy to do nothing if you don't have a plan for the day."
Stephanie's absolute focus is curating experiences for her clients. She has drawn on her experience planning events for high-end publications like Modern Luxury and CS Magazine. "There are endless ways this transfers over to buyer's experiences," she said. "Like make a packet for listings and have a water bottle in the car cupholder for them [if they're driving with you]. That way they feel like this is a luxury experience no matter what."
All of these add up and strengthen the relationships with your clients!
The Two Year Mark & What's Ahead
Where does Stephanie see herself growing in the next few years? "I'm getting to the point where referrals are coming in and I'm seeing the fruits of the last two years' work!"
As she continues to build relationships and be a resource to her clients, she is excited for the extra avenues for her to grow her business. "I plan on taking advantage of the opportunities that feel right to me as they present themselves. I was really lucky and grateful to have mentor figures early on in my career, and I hope to pay the mentorship forward."
If she could give one piece of advice to someone at the start of their real estate career, what would it be?
"Your home is your sanctuary and coming home every night is an experience, whether it's something you are aware of or not. My goal is to help clients find a space that makes them happy to walk in the door at the end of a long day." Looking at the transaction process from the buyer side or the seller side as opportunities to create "moments" or tangible experiences is instrumental to creating a stand-out experience for your clients.
Stephanie also reiterated how valuable mentorship has been for her career. "Don't be afraid to ask for help. You can't expect yourself to know everything, and there are so many people open to sharing knowledge."
INTERESTED IN A CAREER IN REAL ESTATE?
We do encourage you to fill out the information request form below so we can reach out to you and make sure you have everything you need to start your new and exciting career.