Real Estate Agent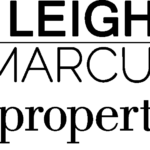 Website twitter.com/leighmarcus Leigh Marcus | @properties
Together More is Possible!
Do you believe you are capable of much more– but are not sure how to get there?
Do you feel your current environment is not serving you anymore?
Do you want to achieve your goals without giving up your work-life balance?
Do you believe that's even possible?
On the Leigh Marcus Team, we teach our agents how to run a sustainable and predictable listings-focused real estate business where they can have it all. Rather than just handing you a fish, we also teach you how to fish!
If you like the idea of a team environment where everyone collaborates, helps spur each other to higher levels of production and takes massive amounts of personal responsibility, we may be a fit!
As a part of our team, you will have help with your transaction and listing management so you can focus on selling. You will be coached on an ongoing basis and be given the accountability that will take you to the next level- no matter how high you want to go! Make no mistake, you will be prospecting 3-4 hours per day so only the hardy need apply.
Our team members are low ego, take ownership for their daily activities to ensure their success and are just as concerned with the achievements of their fellow team members as themselves.
If you're ready to be a part of a team that is doing real estate smarter, let us know.
What You Can Expect From The Leigh Marcus Team
• A plan of exactly what to do on a daily, weekly, monthly and yearly basis to make your job simple.
• The best agent training including scripts/dialogues, prospecting techniques, lead conversion skills, time management skills, etc.
• A proven business model that shows you exactly how to run your real estate business the right way. No guessing or reinventing the wheel, just a proven model that has generated over a $1,000,000,000 (billion) in sales and over 2,200 homes sold.
• Stellar support including transaction and listing management, daily shadowing opportunities, in-the-field training and continuous skills workshops. (If you need help, you will ALWAYS find it here.)
• Fully integrated marketing system that runs like clockwork.
• A collaborative, fun culture where every team member feels valued and enjoys coming to work!
What We Ask Of You:
• Be a licensed real estate agent.
• Be ready to dive into an extensive training program that is designed for success.
• Be ready to devote a full-time effort to growing your real estate business.
• Be a team player. We share everything that we can to help each other.
• Be ready to work in an exciting and energetic atmosphere!
Let us know if you are ready to take your life to the next level and feel you may be a fit!
INTERESTED IN A CAREER IN REAL ESTATE?
We do encourage you to fill out the information request form below so we can reach out to you and make sure you have everything you need to start your new and exciting career.