Meet Walter Salazar: Keeping It Real In Commercial Real Estate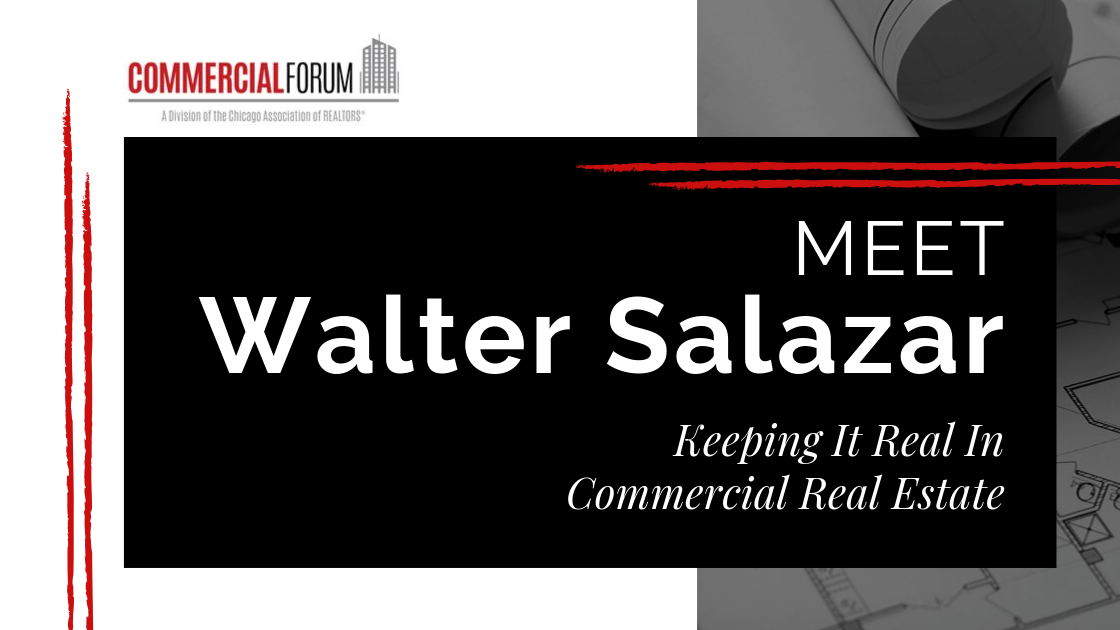 Walter Salazar began his real estate career as a leasing agent, but he wasn't sure being a broker was the best next step for him.
There was a stigma around being a real estate broker, and he didn't want to be seen in that same light. But then he started talking to people and learned about the opportunities waiting for him and what buying and selling properties truly meant. "I asked myself, what's stopping me from doing that?"
Now, the Chicago native specializes in commercial real estate and property management with Miller Chicago Real Estate. And that stigma? Walter has moved above and beyond, epitomizing what it means to be a REALTOR®.
Taking the Next Step
Originally from the banking industry, Walter decided to make the career change to real estate when he took a hard look at himself. "I was like, is this what I want to do for the next 20 years?"
He browsed a commercial real estate catalog, looked at the top producers and set up some interviews. There, he connected with a top producer named Mario Greco, founder of The MG Group. "I learned about having a structured business model and working with higher-end properties. Seriously, I learned so much with Mario."
From there, he began promoting himself and got his name out. He isn't the pass-the business-cards-out type of guy; instead, he takes down the names of people he connects with on a performance and goals level, and he maintains those relationships.
Diving Into Commercial Real Estate & Investing
After he was referred into a rehabber's business, Walter began building his foundation; he learned the numbers, he saw and felt the value of helping people build wealth through real estate and he honed his ability to talk to and approach people. "For example, commercial people don't want to know the story, they want to see the numbers."
"I ask my clients, 'Why do you want to do real estate?' You know, anyone can buy something. I like to teach people to do more. I know the financing and lending side and how to walk people through a strategic purpose so they can see the benefits long-term," Walter said. As he talks, his excitement is palpable. He sees opportunity in owning multi-family units and turning them into profit-generators.
"I helped these people get a 4-flat double lot in 2017. This was my first six months in real estate, and I discovered this business is more than opening a door. It's educating people on the value of their property and the process."
Keeping It Real
When asked about his clients looking up their properties, Walter doesn't mind. "I tell them to try and find something better than I can! It's a team process, I want them to be involved." His expertise is in the process, the paperwork and the long-term vision. He reassures people he will ensure their protection through the transaction process.
"People tell me they like how I don't sugarcoat it for them. I believe in keeping it real," he said. He also discovered that the best service he can offer his clients is insight. When his first-time home-buyers were confused or upset about why they were receiving additional fees or going through extra steps, he changed his strategy. Now, he walks all his clients through all sides and stages of the process, so they don't feel uninformed or deceived. He wants them to know what everyone experiences when they buy and sell real estate.
Walter's Advice
1. Learn Everything You Can
"As soon as I understood everything from start to finish, I hit my stride." He learned in the ins-and-outs of the business, and this has helped his business thrive. He has strong, trusted relationships with colleagues and clients.
Walter also encouraged every REALTOR® to get to know the construction side. An easy way to increase your knowledge is to go to weekly training at your local Home Depot. They're hands-on and informative, and they cover everything. If not, try videos on the internet.
2. Network, Network, Network
New brokers should network first and try to build a relationship with a lender and a lawyer in particular. He has built his network of developers and property managers through close relationships. From LinkedIn to personal referrals, he attributes his solid portfolio of connections to great experiences with clients.
"It doesn't matter whether you're making a deal right then. You need to be professional and prepared so you build rapport for down the road." He also attributes his solid relationships to his light-heartedness. "I like joking around and keeping it fun! People connect with that."
3. It's All On You
No one is going to give you deals. Walter says this twice. It takes time to build your base, so create a network. Those conversations will turn into another conversation. "It took me almost three years to learn enough to feel confident." Time will also help you see what it takes to be an investor. That hunger to learn, that attention to detail and process, they all add up to success.
4. Find a Niche
"Ask yourself, 'What do I want my niche to be?'" Walter said. Specializing in a type of real estate, property and neighborhood takes time and experience to narrow down. Shape your business around what you enjoy doing and what you see a need for in the industry. Pay attention to what your clients or network are saying and asking for – you may discover your next path to real estate greatness!
INTERESTED IN A CAREER IN REAL ESTATE?
We do encourage you to fill out the information request form below so we can reach out to you and make sure you have everything you need to start your new and exciting career.