Meet Paul Mancini: Hitting Your Stride & Owning Your Independence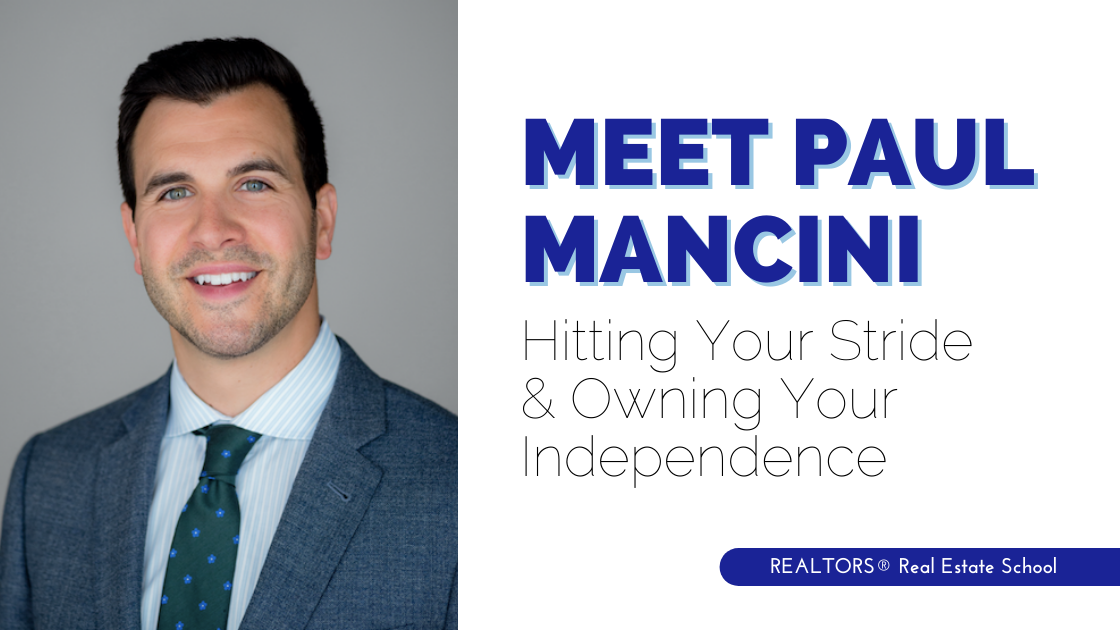 Paul Mancini had been working in corporate sales with Groupon for five years, and he was ready for a shift. He had several family members in the real estate business on the legal and lending side, so earning his broker's license felt like a natural move.
"I wanted to dip my toes in, so I paced myself by taking evening classes and working during the day," Paul said. "I worked part-time for the first year."
THE FIRST YEAR
By Paul's second year, he was thriving enough to feel confident in committing to real estate full-time. "Real estate has a lot of upside and potential, plus there's no cap on your income. And you're your own boss."
Setting his own schedule, working on his own timeline, was more his scene than a corporate job. "It's an incredible world. I've been five years full time now, and it's only been up ever since," he said. Recently, he hit a new milestone in his career. "My first clients are calling me again to sell their house, and a repeat client is a great compliment!"
His first client was from Groupon and knew he was a hard worker. How did Paul advocate for himself despite his inexperience? He told his client that even though he was learning, he had a great team behind him who would step in and be there to help them both if needed. Handling these different objections wisely and thoughtfully helped steer Paul towards success from the start.
If you are starting part-time, Paul recommends communicating with your clients that your end goal is to be full-time. "This is the biggest financial decision of their lives, and they want to feel like they're a priority of yours and that your 9-5 isn't going to get in the way."
MUST-HAVE SKILLS & GOAL SETTING
What did Paul feel confident about going into his new real estate career? Thanks to Groupon and sales, he was already a hard worker and was familiar with high-performance measurements. Coming from a competitive world where he could see everyone's numbers, his competitive edge was already there.
"Every day, I wake up and think of what I can do to be a top producer," he said. "I have self-motivation that gets me out of the bed in the morning."
If Paul could give one piece of advice to someone at the start of their real estate career, what would it be? "I try to slip into conversations at all times that I'm a real estate broker. If you don't tell them, they're never going to know. It can be totally casual! You can usually find a point in the conversation that you can relate to your job."
Next, work with the sphere you already have built through life. "It's super important to have a big sphere. I'm from Chicago and have lots of family and friends in the area. When you begin classes, start telling your sphere that this is your plan. Start reaching out to people you haven't in a long time because you never know who could be your client."
More importantly, Paul encourages finding and establishing meaningful connections and commonality, not just giving a sales pitch.
WHAT'S NEXT
Once he is doing $30 million to $40 million a year consistently and still able to enjoy family time, Paul feels like he'll have hit his stride. He isn't sure if hiring a team is in his future since he enjoys being a consistent producer on his own. "I like doing my own thing and grinding. I feel supported by my brokerage if I'm double-booked, and I have admin support from my brokerage."
"Social media can be deceiving," Paul said. "People don't post about deals that fall through since it's our job to make the process seem easy and approachable to our clients. Top producers do their best to make it look easy."
In the end, Paul knows he's discovered a career path he enjoys through and through. "I find happiness in this, and it's important to me that I hold onto that."
INTERESTED IN A CAREER IN REAL ESTATE?
We do encourage you to fill out the information request form below so we can reach out to you and make sure you have everything you need to start your new and exciting career.